Introduction to Virtual Photography
Do you need a headshot for your online profile but never got around to taking it? Maybe you need professional photos of your new remote team members, but you want to avoid the hassle involved. Right now is the time to discover virtual photography by Linda Kazares Photography!
You see, the year 2020 brought so much disruption that many people found comfort in their familiar spaces. The glitz and glamour of photoshoots, which was previously the highlight of every event, quickly fizzled out. Today, organizing a photoshoot or driving to a studio is an arduous experience riddled with safety precautions.
But life has to go on. Surviving in this new norm requires a lot of creativity and resilience by your company. One way to come back stronger is by reconnecting all over again with your target customers. Professional photography can play a significant role in these efforts, but there's a catch. How do you take quality photos with all these restrictions?
Virtual photography is a revolutionary photography trend suitable for multi-location international companies with teams and partners across the globe. If you're an international brand with remote workers worldwide, this new technology perfectly suits your branding strategy. Virtual photography can work for businesses in any industry: financial, legal, medical, to consultancy. A virtual photoshoot is a great solution for businesses that do not have any photos of their team members or have outdated ones that no longer represent the brand. 
Welcome to Linda Kazares Photography
I'm Linda Kazares, the founder of Linda Kazares Photography, and capturing beautiful photos is my passion. Over the years, I've worked as a photographer with many personal and corporate brands, offering a wide range of expertise throughout many industries. My passion is to capture those important moments for my clients.
Like you, 2020 was a challenging year for me, and I knew if I didn't innovate, this would be a death knell of something I loved dearly. Virtual photography is how I rededicated my efforts to help my clients get the best photos from the comfort and safety of their homes. I use virtual photoshoots to deliver professional-grade images without dealing with the challenges posed by social distancing restrictions.
I've created this post to help explain this new photography concept and how to utilize it. My objective is to provide a solution for my clients who still want professional-quality photos, either for personal or business purposes. If this is you, read on!
What is Virtual Photography?
Remember when Meghan and Harry announced they were expecting their second child? It was a huge news story, but even more interesting was that the photographer was thousands of miles away in London. Their experience is a perfect example of virtual photography at work.
Virtual photography is a revolutionary digital concept that brings the subject and the photographer together in the age of social distancing. Sounds surreal, right? To appreciate why this concept has taken off so successfully, consider that many places still have social distancing regulations. Getting authorization for even the smallest gatherings can be difficult, which makes corporate photoshoots tedious.
Virtual photoshoots allow photographers like myself to continue with their passion and for clients to receive the professional-quality images they need. The best thing about this technology is that you don't have to leave your home or office. Everything happens online with the photographer guiding, just as happens at an in-person photo shoot.
During a virtual photoshoot by Linda Kazares Photography, I'll help guide you through every step of pre-shoot preparation, including setting up your iPhone or Android phone for the virtual photoshoot. Remember, these are live mobile camera shots in your familiar environment, and the virtual photoshoot platform is optimized for perfect studio-quality images. Unlike a selfie or having your friend take your photo, this is a professional shoot. Virtual photography differs from screenshots, Zoom, FaceTime, and camera screenshots. This is an actual photoshoot, only that I'm on the other side of your screen. After helping you set up the perfect pose, I'll activate your phone's camera and take the photo.

Here are my roles as a virtual photographer:
Choosing the right background
Guiding you to set the best lighting
Advising you on the posing positions
Helping with the attire selection
Taking the photos as the photographer activates the client's mobile phone shutter remotely via the internet
Guiding you on the best head angle and gaze
Why Choose Virtual Photography?
The world has changed drastically during the global health crisis. Gone are the days when you would plan a business trip and get on your way in hours. Things that you would typically do spontaneously or for fun now require a lot of planning.
With social distancing regulations still in place and many other restrictions, virtual photoshoots make a great deal of sense. Here's a quick breakdown of the advantages of virtual photography:
Convenience: This is a remote photography and coaching service conducted in real-time anywhere in the world.
Professional photography: Virtual photoshoots replicate the professional studio photoshoot experience but with added convenience. These are quality alternatives to screenshots or fake white background photos, or backdrops.
Comfort: You receive coaching from a professional photographer in familiar surroundings, which leads to better images.
Coaching services: You have a professional photographer to coach you in real-time for the best poses, lighting, and most effective setting.
Time-saving: As you take the best poses, the photographer snaps the shutter remotely. Whether you need an individual headshot or a team photo, a virtual photoshoot saves you a lot of time.
Cost-savings: You avoid the logistical costs involved in arranging in-person photoshoots. There's no need to travel when you opt for a virtual photo shoot.
Is Virtual Photography the Future of Photography?
There was persistent talk of a digital revolution before the world started locking up because of the Covid-19 pandemic. The pandemic precipitated this revolution, with many people going online. Physical businesses struggled while many collapsed, brands such as Amazon, which were trendsetters in digital solutions, continued to grow and thrive.
As things have normalized, there's no denying that the long-awaited shift to digital has happened. Even without the health risks caused by the global pandemic, more and more people have experienced as embraced the convenience of digital solutions.
Virtual photoshoots are now an essential part of the innovative services I offer at Linda Kazares Photography. Over the last year, I've seen my world change drastically, and I believe virtual photography will play a significant role in my future as a photographer.
While virtual photography is in its beginning stages and more innovations are still sure to come, I am proud to be among the trendsetters adopting this new technology. For the last 14 months, I've refined my company's systems to deliver exceptional photographs. So, I have the expertise and technology to deliver whatever images you need— whether for your branding or personal use. In just about 30 minutes, I'll help you set up and capture captivating photos, all from the comfort and convenience of your home.
Why Use Us for Your Virtual Photography Session?
Having been in the industry for decades, I appreciate the importance of a professional image. My philosophy is to consistently deliver the best photography services for every client, regardless of whether it's a headshot for one individual or a branding session for a large, global corporation. In every photo shoot, client satisfaction is always the highest priority.
Here are some reasons to consider arranging a virtual photoshoot with Linda Kazares Photography:
One-stop-shop photography: You enjoy all photography services under one roof. I'll be your photographer and project manager–which means I schedule, shoot, and edit your photographs. Getting all these services from Linda Kazares Photography guarantees uniformity in the quality of your photos.
Custom photography services: Whether you need photos of your remote team, onboarding new recruit photos or headshots for your website, business cards, proposals, or any other photography needs, I am here to work with you. At Linda Kazares Photography, there's no one-fits-all photography package. My greatest joy is to provide tailored solutions to meet my client's unique needs.
Solid reputation/track record: While virtual photoshoots are a new trend, I pride myself as a trendsetter who provides the best possible experience. For over 14 months, I've worked virtually with clients from different locations and helped capture high-quality photos.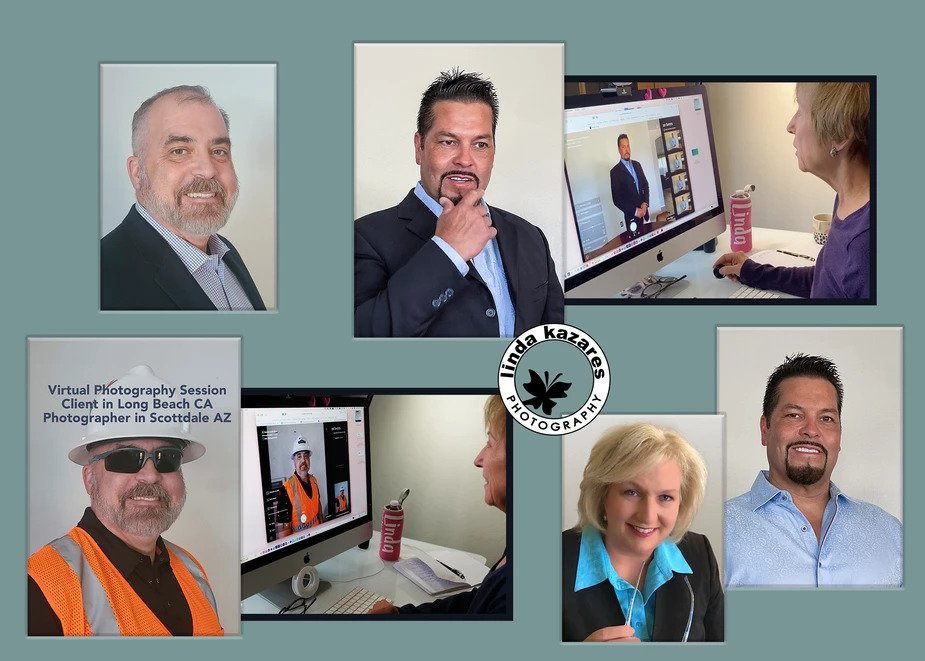 You can read more about what my clients have to say here.
Why Do Good Photos Matter?
They say a picture is worth a thousand words, which aptly applies to this age of digital communication. It isn't easy to get your message across when so much information targets the same audience. To stand out from the competition requires more creative methods to present your brand. In the new norm emerging post-Covid-19, brands that build closer and more authentic and meaningful relationships with audiences have a better chance of thriving.
From a company or personal rebranding to website redesign, there's no denying the importance of good photos for your professional image. High-quality photos project a warm personality, professionalism, character, and credibility.
You can achieve much more with a single photograph than with pages of text. With this in mind, let Linda Kazares Photography help guide you through this new technique to upgrade your photos and help you take the first step to grow your brand in a rapidly changing business landscape!
Simplifying Photography Amidst Social Distancing
Do you need high-quality photos, but you don't know where to start? What about getting those professional photos right inside your home? At Linda Kazares Photography, I understand how difficult it is to organize or attend a photoshoot at a local studio with social distancing rules and restrictions.
I leverage virtual photography, the most revolutionary tech trend in this industry, to capture amazing photos from the comfort of your home. As an experienced photographer, I'll work with you and guide you via the internet and a proprietary online private connection in every aspect— from wardrobe choice to posing—to help you prepare and create the best virtual photoshoot results.
So ask yourself– why use outdated photos for your branding purposes? Why use low-quality selfies for your professional profiles? Instead, go for a more powerful image that reflects your personality or that of your business brand.
Contact Linda Kazares Photography, a virtual photographer today for an easy, exciting virtual photoshoot— and you'll wonder why you didn't sooner!